BRIGHTON & HOVE RADIO CABS WORKING TOGETHER WITH SUSSEX UNIVERSITY STUDENTS UNION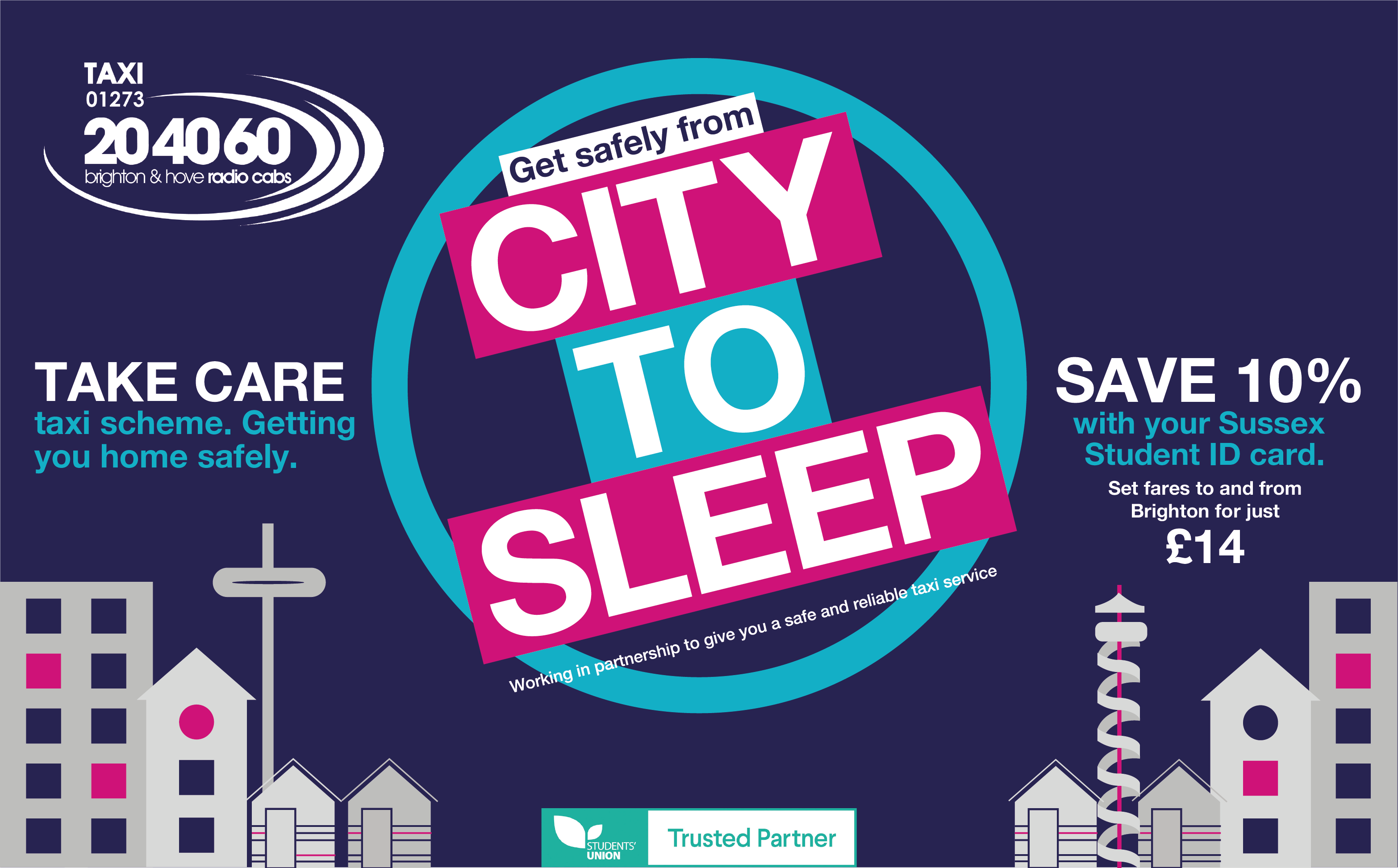 STUDENT SET FARES
All Falmer campus Sussex & Brighton from £14.00
Falmer to Brighton Marina from £14.00
Varley Halls to Brighton from £12.00
Varley Halls to Brighton Marina from £12.00
All Moulsecoomb campus to Brighton £8.00
Moulsecoomb to Brighton Marina £10.50
Phoenix Halls to Brighton £6.50
Phoenix Halls to Falmer £12.00
*For journeys with 5 passengers or over, 50% will be added to the above set fares.
Please state that you are a Student Discount or NUS card holder when making your booking and quote the price to receive these set fares.
10% discount on all other metered fares with a valid Student Discount Card or NUS card.
**If you didn't pick up your Student Discount Card from the Freshers Fairs, visit your Student Union Office to collect your discount card.**
Brighton & Hove Radio Cabs 20 40 60 are working together with Sussex University Students Union to provide value for money and safe travel for all students across Brighton and Hove for the future.
Radio Cabs are extremely proud of our association with University of Sussex. We pride ourselves on welcoming all students to the City and work very hard to meet their expectations by ensuring they feel welcome, safe and secure.
A City to Sleep scheme is in place to ensure all students get home from their night out safely. Any student who feels threatened or concerned for their well being whilst out in the City can go to the safe space at St Pauls Church on West Street where they will be looked after and safely returned home with help from the Good Night Owl volunteers.
Call 01273 204060 to send a taxi to your location or make your way to these pick up points in the City - Brighton Pier, Brighton Centre, Art College, Phoenix House and the Radio Cabs Office at Seven Dials
Our taxi call centre operates 24 hours a day 365 days a year with a fleet of over 300 taxis including wheelchair facility and multi-seater vehicles. All taxi drivers are CRB checked and fully licensed.
You can be picked up from anywhere at any time of the day and still receive your 10% discount on all metered fares.
Download our app to book and track your taxi and receive your drivers vehicle details.
By working together we can ensure that all the travelling needs of students at Sussex University are met and we provide a range of discounts which include 'fare deals' to and from the City Centre.